Sign up for news and discounts on hilarious, stand-on-your-seat improv tickets! All email subscribers get a FREE ticket for their birthday!
We perform regularly at the Broadway Comedy Club in Manhattan as well as tour the show for FREE to groups who have difficulties traveling to the theatre.
We perform two fully-improvised, one-hour shows using your suggestions: "The Movies–Improvised!" and "Your Life–Improvised!"
The Movies–Improvised!
Ever dream of making a movie? Now you can as you team up with The Exuberant Theatre Company for The Movies–Improvised! No need for a huge cast and crew or shiny special effects; all this classic-in-the-making needs is your hilarious suggestions! The troupe of improv experts will then take your off-the-wall ideas and somehow make them into an original blockbuster — totally in the moment. Plus, if you're celebrating a special occasion, you can even score a cameo! Don't miss this fun send-up of Hollywood at the Broadway Comedy Club in New York City's Theatre District.

Your Life–Improvised!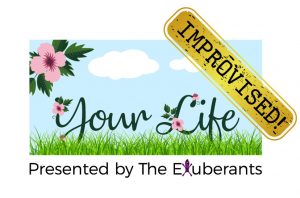 Who was your first kiss? What was your proudest moment? How would you like to relive it? How would you like to relive it … with a room full of strangers? If you're brave enough, you might do just that when The Exuberant Theatre Company brings Your Life–Improvised! to the stage. This group of talented improv comics will dramatize the most important moments from audience members' lives, re-imagining the scenes with a bit of improv magic for a unique and entertaining night at Broadway Comedy Club in New York. It's the perfect night out for special occasions like birthdays, anniversaries, bachelor(ette) parties and more.
50-Laugh Money Back Guarantee
The Exuberants guarantee 50 laughs per hour or your money back and we invite you to take advantage of that offer. We want you to walk out of our show with a huge smile on your face and feeling great, and if you're not, we want to hear about it!
We also invite you to hire us for private events and parties. We love to boogie!
If you are a member of community that has trouble going out to the theatre, ask us about our FREE shows for groups who don't travel. We bring the comedy to you!